Uponor now offering ProPEX® connections for water service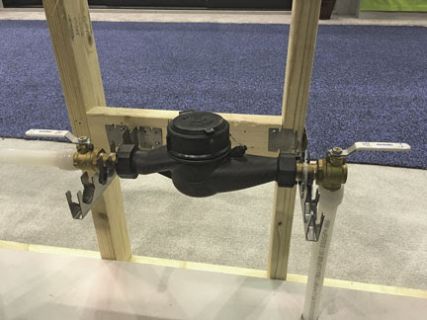 Uponor North America (Uponor) is making it even easier to provide the reliability, high-performance and efficiency of an AquaPEX® plumbing system for homes and multifamily structures with the launch of its new ProPEX® connections for water service applications.
"With PEX installations in new-home construction surpassing copper and CPVC combined, we are continuing to provide even more solutions for designers and installers to incorporate the value of a complete Uponor AquaPEX plumbing system throughout a home or multifamily building," says Jayson Drake, director, Plumbing at Uponor.
Targeted for single-family homes and multifamily submetering, the new offering is available in engineered polymer (EP) straight or angle fittings, as well as lead-free (LF) brass straight or angle valves for connecting ¾" and 1" Uponor AquaPEX pipe to ⅝", ¾" and 1" water meters. Both fittings and valves feature NPSM swivel connections found on all water meters sized ⅝" to 1". The offering also includes mounting brackets to support the water meter system.