Uponor PEX-a Pipe Support Now Available up to 3½" for Commercial PEX Piping Applications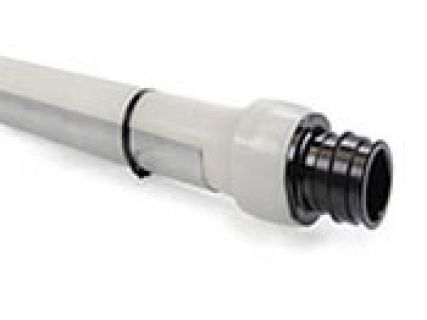 Uponor North America (Uponor) now offers its innovative PEX-a Pipe Support in sizes up to 3½" for suspended piping applications in commercial plumbing and hydronic distribution piping systems.
Uponor PEX-a Pipe Support is a galvanized steel channel that provides continuous support of PEX in suspended piping applications, enabling hanger spacing similar to that of copper or steel pipe. The product is available in 9-foot lengths for ½", ¾", 1", 1¼", 1½", 2", 2½", 3" and 3½" PEX pipe sizes and comes with nylon-coated, stainless-steel strapping to secure the pipe to the support.
"We are continuing to see an impressive growth in commercial PEX piping systems for both plumbing and hydronic distribution piping applications," says Tony Radcliff, vice president, Offerings/Marketing, at Uponor. "Offering our PEX-a Pipe Support in larger sizes allows professionals a wider range of offerings to incorporate PEX systems into more of their commercial projects."
 Uponor, Inc. is an award-winning provider of plumbing, fire safety, radiant heating/cooling, hydronic distribution piping and pre-insulated piping systems for residential and commercial applications. In 2014, the company received the Community Impact Award for Sustainability and the Progress Minnesota award for driving business growth and economic development. The company was also named a Top 100 Workplace by the Minneapolis Star Tribune. Uponor, Inc. employs more than 500 people at its North American headquarters in Apple Valley, Minn. For more information about Uponor, visit here.