Watts Introduces Roof Drains for Heavy Water Flow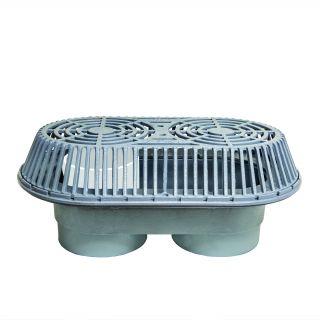 Watts is pleased to announce the following two product launches:
Big Daddy™ Dual Roof Drain, Model RD-800
The new, exclusive Watts Big Daddy™ RD-800 Series dual roof drains provide the ultimate in dual roof drain overflow protection. The exclusive dual roof drain/overflow combinations offer outstanding leakage protection, durable construction, and ease of installation.
Big Daddy™ eliminates the need to cut separate holes in the roof for overflow drainage. In independent lab tests the 10" outlet model achieved a 1,368 GPM flow rate, demonstrating flow rates much higher than multiple single roof drain and overflow units can deliver.
Big Daddy™ RD-800, RD-800-CT
Dual Roof Drain with Overflow
Available in 8" and 10" Outlets
Cut-through Overflow Option Available
RD-300-AC Compression Seal, Adjustable Roof Drain
New and exclusively from Watts, the RD-300-AC roof drain provides a patent-pending compression seal design. It delivers watertight, reliable performance, limiting the risk of leakage and water damage from heavy water flow due to rain, melting snow, and other types of weather events.
The epoxy-coated cast iron roof drain has no threads to rust and jeopardize performance. Key features include a flashing clamp and integral gravel stop, self-locking polyethylene dome (standard), and no hub (standard) outlet.
The drain easily adjusts to heights from 1" to 3.125", making installation through roofing materials quick and easy.
RD-300-AC Compression Seal, Adjustable Roof Drain
Compression fitting-no threads to rust
Adjustable from 1" to 3.125"
Available in 2", 3", 4", 6", 8", & 10" No-Hub Outlets
Push On Available on 3, 4, & 6" Outlets
BAA Compliant Options available
For more information, go to Watts.com.