Watts to Host Customer Webinar on Sanitary Design for Facility Safety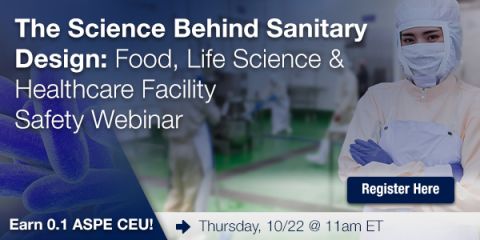 Watts will host a customer webinar, The Science Behind Sanitary Design: Food, Life Science & Healthcare Facility Safety, on Thursday, October 22, at 11:00 am ET.
This is the next installment in the Watts® Works℠ Engineer Webinar Series geared specifically towards engineers, architects, designers, specifiers, and facility managers.
Stainless steel drainage solutions provide a hygienic, easy-to-clean, and long-lasting solution for your facility's drainage systems. During this webinar, our industry subject matter experts will discuss how to accomplish the following using such drainage solutions:
Mitigate the risk of bacteria and infections in food, life science, and healthcare facilities
Eliminate bacteria and stop contamination-related recalls
Reduce the risk of infections and food borne pathogens
By attending the entire webinar, attendees can receive 0.1 Continuing Education Unit (CEU) through the American Society of Plumbing Engineers (ASPE).
To register for this webinar, visit: https://bit.ly/3625SST.