Watts to Host Customer Webinar: Optimizing Facility Safety with Remote Water Control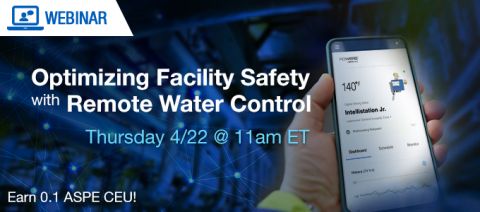 Watts will host a customer webinar, Optimizing Facility Safety with Remote Water Control, on Thursday, April 22, at 11:00 am ET.
This is the next installment in the Watts® Works℠ Engineer Webinar Series geared specifically towards engineers, architects, designers, specifiers, and facility managers.
Remote water control is creating easier, more cost effective ways for you to maintain building water safety – whether you're on site or not. During this webinar, our industry subject matter expert will discuss how:
Digital mixing with IoT gives you the power to respond quickly to unsafe water conditions during normal operations and during emergencies that may limit facility access.
Controlling your water systems to optimize building safety can be done from your smart phone.
Remote water control can help you keep water temperatures safe and act quickly in case of an emergency.
Smart and connected digital mixing systems place real-time information at your fingertips to give you higher levels of control and water safety.
By attending the entire webinar, attendees can receive 0.1 Continuing Education Unit (CEU) through the American Society of Plumbing Engineers (ASPE).
To register for this webinar, visit: https://bit.ly/3sKep5x.