Watts to Host Customer Webinar: Past, Present, & Future of Specifications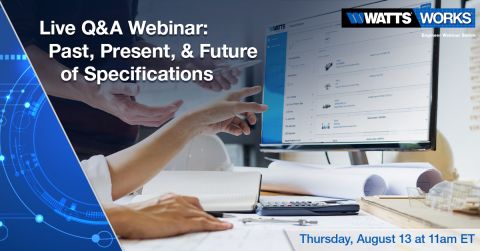 Watts has announced the next installment in the Watts® Works℠ Engineer Webinar Series for their engineer, architect, designer, specifier, and facility manager customers.
The webinar, Past, Present, & Future of Specifications, will be broadcast live on August 13, 2020 @ 11am ET with specification experts on hand to field all your questions.
Successful construction projects rely heavily on engineers to specify and design systems that work. As buildings have gotten bigger and more complex over the years, so has the specification process.
In this latest interactive webinar, you'll learn about:
Challenges that make specs hard to use in the field
Modern tools engineers are using to create detailed, more accurate project specs
By attending the entire webinar, attendees can receive 0.1 Continuing Education Units (CEUs) through the American Society of Plumbing Engineers (ASPE).
To register for this webinar, please visit this page.