Watts to Host Webinar: Working Smarter: Better Project Specs with SpecHUB™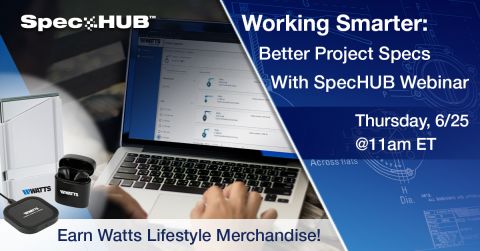 Watts has announced the next installment in the Watts® Works℠ Engineer Webinar Series for their engineer, architect, designer, specifier, and facility manager customers. The webinar, Working Smarter: Better Project Specs with SpecHUB™, will be broadcast live on June 25, 2020, @ 11 a.m. ET.
In this latest webinar, attendees will learn:
How engineers, architects, and design build contractors are writing better specifications with SpecHUB, Watts' project specification tool, which makes it easy to create and share accurate specs.
How clear, detailed project specs can help keep the team on track and help reduce unforeseen issues that can cause delays.
Earn lifestyle merchandise
Customers can earn Watts lifestyle merchandise by attending the webinar, registering for SpecHUB, and creating a project or spec by Thursday, July 2 @ 11:00 a.m. ET. They can choose an item among a variety of options like a wireless keyboard, wireless earpods, and more.
To register for this webinar, visit this page.