Webstone Enhanced Product Training Videos Now Available - MVP in Hydronic System Installations DVD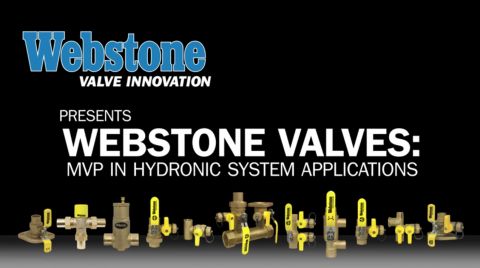 This newly expanded 35-minute animated video outlines the functions, features and benefits of Webstone's complete line of signature products and includes new segments on Hydro-Core, Thermostatic Mixing Valve lines, Pro-Connect Press™ and PP-R Pro™ products.  
Copies of this video are available free of charge to wholesalers and offer exceptional product training for sales staff and customers alike.  Pop it in a showroom DVD player for an excellent opportunity to showcase the benefits of Webstone to contractors while they shop.  
Preview the video on YouTube or contact any member of our sales team to request your copy today. (sales@webstonevalves.com or (800) 225-9529).  Founded in 1954, Webstone is recognized as an industry leader for innovative design of residential and commercial valves used in plumbing, hydronic, radiant, solar and geothermal applications. These designs focus on time and space saving concepts that simplify future maintenance and upkeep of all piping systems. Some of Webstone's trademarked and patented items include; Hydro-Core™, The Isolator®, Isolator EXP™, Pro-Connect™, and Pro-Pal® Step Saving Valves.
Learn more about Webstone HERE.