Webstone New Ultra-Compact TMV Features Convenience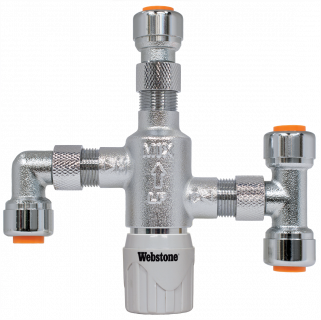 Webstone®, a brand of NIBCO, introduces two new Ultra-Compact Thermostatic Mixing Valve products: Pro-Connect ProPush™ models for the ultimate in convenience, and chrome-plated bronze model for commercial applications. Ideal for discrete under-sink installations, with space-saving 2 ½" x 3 ¼" body. Push model offers 1/4" ends for fully-removable connections to copper, CPVC, or PEX. Bronze model features 3/8" OD compression ends. Both models feature dezincification resistant lead-free construction, temperature-locking handle, optional temperature gauge and/or cold water by-pass fittings.
Learn more: www.webstonevalves.com/tmv
Founded in 1954, Webstone now operates as a brand of NIBCO and is recognized as an industry leader for innovative design of residential and commercial valves used in plumbing, hydronic, radiant, solar and geothermal applications. These designs focus on time and space-saving concepts that simplify future maintenance and upkeep of all piping systems. Some of the Webstone trademarked and patented items include: Hydro-Core™, The Isolator®, Isolator® EXP Pro-Connect™, and Pro-Pal® step-saving valves.