Webstone Offers Pro-Connect ProPush Exclusive 10-for-1 Warranty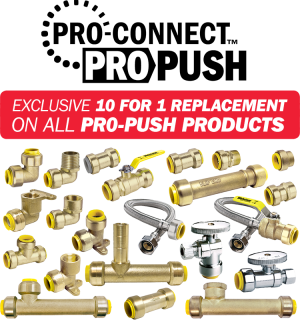 The best products have the best warranty!  
Webstone's Lead Free Pro-Connect ProPush products now carry an exclusive 10-for-1 guarantee.  If a ProPush product ever fails as a result of a manufacturing defect, Webstone will replace the unit tenfold and reimburse the installing contractor up to an additional $50 towards their labor.  This exclusive warranty, offered on over 150 skus, makes ProPush one of the most complete and reliable solder-free lines in the industry.  Choose from bulk or individual packaging, compatible with COPPER, PEX, or CPVC systems. Forged from dezincification-resistant brass, suitable for underground use and cUPC certified to NSF/ANSI 61-8, this line is ideal for potable water and hydronic heating systems.
Founded in 1954, Webstone is recognized as an industry leader for innovative design of residential and commercial valves used in plumbing, hydronic, radiant, solar and geothermal applications. These designs focus on time and space saving concepts that simplify future maintenance and upkeep of all piping systems. Some of Webstone's trademarked and patented items include; Hydro-Core™, The Isolator®, Isolator EXP™, Pro-Connect™, and Pro-Pal® step saving valves.