Webstone's Isolator E-X-P E2™ Now Available in Press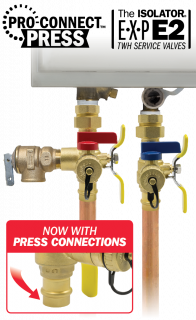 The patented Isolator E-X-P E2 Service Valve Kits allow for quicker, consistent quality TWH installations, with fewer leak paths; and are now available with Pro-Connect Press connections for even faster installation. 
Streamline future services and clean, flush, or diagnose any tankless water heater with ease.  Forged from Lead-Free CleanBrass and certified to meet all low lead laws and GUARANTEED FOR LIFE.  Learn more HERE.  
Founded in 1954, heating professionals recognize Webstone as an industry leader for innovative design of residential and commercial valves used in plumbing, hydronic, radiant, solar and geothermal applications. These designs focus on time- and space-saving concepts that simplify future maintenance and upkeep of all systems. Some of Webstone's trademarked and patented items include: Hydro-Core™, The Isolator®, Isolator EXP™, Pro-Connect™, and Pro-Pal® step saving valves.