What to Know for Melting Snow: Hydronic SIM Best Practices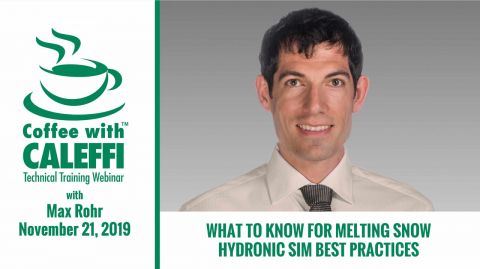 Ready or not, here comes the snow and ice season. Is your hydronic snow and ice melting (SIM) system ready-to-go? Do you have a design in mind, but need assistance with the final details? Returning to the webinar series, guest speaker Max Rohr will dig into hydronic SIM systems, chip away at important design considerations and challenge you with questions to ask yourself when selecting controls at the next Coffee with Caleffi™ webinar on Thursday, Nov. 21 at 12 noon CST.
Rohr is a graduate of the University of Utah. He currently serves as the REHAU Academy Manager (Leesburg, Va.). Rohr is a self-described hydronics and thermostat nerd. He has worked in the hydronics and solar industries for 20 years in the installation, sales and manufacturing sectors.
The one-hour educational webinars are free and are intended for contractors, designers and wholesalers. A Certificate of Attendance is emailed to attendees following the event for continuing education audits. Please visit our website at www.caleffi.us for schedule details and registration.