Wetstock
August 24 began as an unseasonably cool day in New York City, which made for a fitting scene as the HeatingHelp.com community gathered to discuss a range of heating-related topics at Wetstock 2019.
Erin Holohan Haskell, President of HeatingHelp.com, began the event by addressing the sold-out crowd with attendees visiting from across the US. "We're thrilled and very grateful to be among friends here today in this beautiful landmark building of the General Society of Mechanics and Tradesmen of the City of New York. We're going to have a wonderful afternoon learning from one another, surrounded by all of this remarkable history."
Throughout the afternoon, attendees gathered at different tables to discuss various topics including radiant heating and controls, geothermal, solar, indoor air quality, innovative construction, hiring and training, making steam heating more efficient, tricks of the trade, the future of our industry, and more.
Attendees also had the unique opportunity to tour Larry Weingarten's recently donated antique water heater collection and see Gil Carlson's original System Syzer (now the Carlson/Holohan Award for Industry Excellence).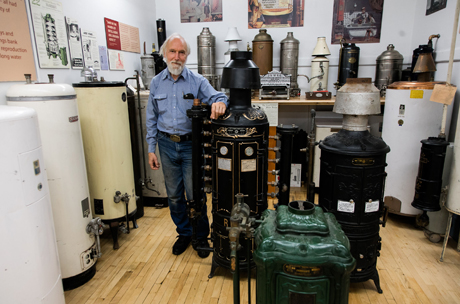 The General Society's landmark building has a fascinating heating system with remnants of Andrew Paul's vacuum system and radiators that date back to the 1890s. Dan Holohan led tours of the mechanical room and told guests about this unique system and how it was restored.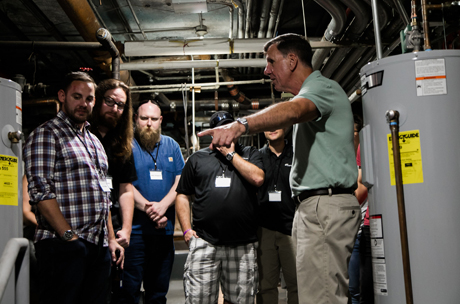 "I had such a wonderful time at Wetstock. I was in awe of the talent and expertise," said Ray Wohlfarth.
"I could feel the past generations who built NYC all around me in that place. It was a feeling of pride to be in that building and around all of the great people present. It was awesome to see and catch up with everybody," added John Ruhnke.
Proceeds from Wetstock will go towards Merit Awards for graduates of the Mechanics Institute HVAC/R curriculum at the General Society of Mechanics & Tradesmen. Founded in 1858, the Mechanics Institute is the oldest privately-endowed, tuition-free, technical school in America. Each year, the Mechanics Institute graduates about 300 students, all working in the trades during the day, and attending classes two nights a week for two to three years. By attending Wetstock, attendees not only benefited their own careers, but they also helped strengthen the trades.
HeatingHelp.com is very thankful to generous sponsors, SupplyHouse.com, Taco Comfort Solutions, and Tunstall Corporation, for supporting Wetstock and for their outstanding commitment to our industry.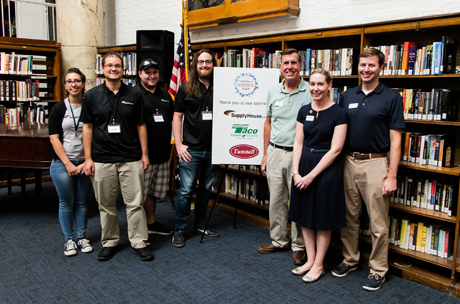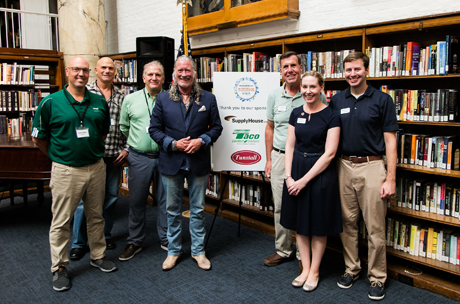 Erin Holohan Haskell noted, "At HeatingHelp.com we have a saying we call A Century of Pride and it goes like this: 'A hundred years from now, they will gaze upon my work and marvel at my skills, but never know my name. And that will be good enough for me.'
"Consider that as you gaze upon the steam pipes around the perimeter of the skylight up there...as you share your knowledge with friends here today...and as you continue to leave your mark on this world.
"We thank you for all that you do and are so pleased to have you here with us today and in our community at HeatingHelp.com."
Click here for more photos from Wetstock 2019.