A Taste of Italy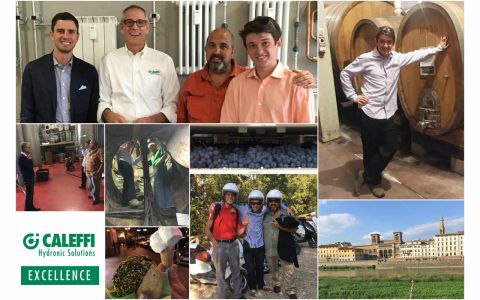 Caleffi Excellence – a contest where designers and installers of hydronic or plumbing systems can showcase their work and receive national recognition - has recently sent our 2016 grand prize winner to Italy. Pete "The Heat" Evangelista of Stout Mechanical (Longmont, Colo.) and son Alex recently visited Caleffi World Headquarters in Fontaneto d'Agogna, receiving a personalized tour of our factories and design facilities. Caleffi training and education manager, Bob "Hot Rod" Rohr and wife Ellen accompanied our guests for the visit.
Their adventures included Alpha Romeo and Travaglini Vineyard tours, scaling the statue of The Colossus of St. Charles Borromeo in Arona and enjoying Italy's exceptional hospitality and cuisine. Remarked Ellen, "It was wonderful to introduce Alex to European travel. At 20 years old, he embraced the experience, bravely communicating a few Italian phrases and became quite adept at navigating. Pete loved the food, of course. Perhaps the mushroom risotto was his favorite. However, the highlight was the Caleffi tour. The manufacturing areas are so well organized; the engineering and automation is mind boggling. The commitment to quality is evidenced in every step of the manufacturing process. Best of all is the lovely family culture, evidenced by the tenure of team members. It's not uncommon to be part of Caleffi for 20, 30 years or more!"
Interested in learning more about Caleffi Excellence? Take a look at Evangelista's impressive installation to get your bearings. We encourage you to share your design innovations for the opportunity to win the next trip to Italy.
Visit us.caleffiexcellence.com for contest details.