Slant/Fin Announces New Line of Baseboard Replacement Covers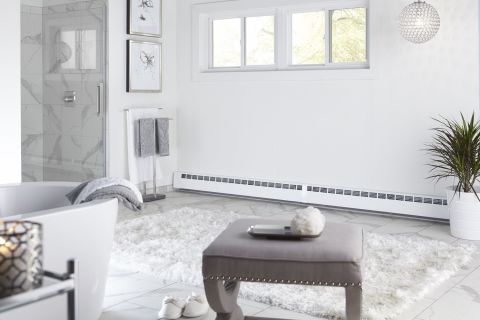 Slant/Fin, is proud to announce a new line of baseboard replacement covers designed for convenient, long lasting and cost effective installation. It's called the Revital/Line. Revital/Line is an Extruded Aluminum Baseboard Replacement Cover, is the first product on the market designed by an established heating company within the industry. It offers an easy way to upgrade worn, or damaged covers on virtually any residential standard baseboard.
Revital/Line Replacement Covers are supplied in standard sizes up to 8 ft long. Revital/Line fits Standard Residential Baseboard measuring up to 8.5"x H 3" D. Simply remove front panel and damper and slip into place over the existing back panel. No need to drain the boiler or cut the pipe, virtually no tools for most installations. The filler sleeves, end plates and other accessories allow for a neat finished look in a fraction of the time it would take to replace the full baseboard. The baseboard covers are fabricated from recycled aluminum and lab-tested to allow for maximum heat output (up to 40% more than other brands) while at the same time are aesthetically pleasing. The powder-coated finish is durable, long lasting; and is offered in eight decorator colors, and stocked in Brite White.
Slant/Fin is America's largest manufacturer of baseboard heating equipment, and widely recognized as one of the premier builders of gas, and oil, boilers in the world. With an impeccable, 70-year reputation, and rich, corporate culture of product innovation, quality and customer service, this family-owned business is proud to be called "The first name in baseboard heating." For more information visit www.slantfin.com.