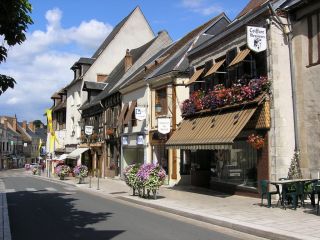 They sell a lot of boilers on the other side of the sea. Sixteen countries make up the European/Chinese boiler market.
Here they are, high to low, in order of sales during 2006: United Kingdom, Italy, France, Germany, Russia, Spain, China, Netherlands, Turkey, Ukraine, Romania, Poland, Belgium, Czech Republic, Hungry, Austria, Slovakia, and Switzerland.
Total boiler sales in those 16 countries topped out at 8,500,000 units in 2006. Compare that to fewer than 400,000 boilers sold in the U.S. during that same period and you get a sense of how much potential there is on this side of the sea.
Marianne and I were sitting in a conference room in Aubigny sur Nère, France, listening to Wilo's Lawrence Webb (who is a delightful Brit) explain the European market to us. He told us (and with a certain amount of pride) that the UK was now the largest market for boilers in all of Europe. This was because of a new law in the UK that mandates condensing boilers for all new construction, and all replacements. You don't have to get rid of what you have right away, but when it dies, you'll have to buy a condensing boiler. And it doesn't matter whether you're burning oil or gas – the flue gases must condense. Some day, there will be no chimneys in London. Imagine that.
Last year, folks in the United Kingdom purchased about 1,650,000 boilers, and most of these wound up in a living area of the home, often in the kitchen. A boiler is just another appliance in Europe, and because so many of them are now hanging on walls, they have to be very quiet. And they are.
They had one of these wall-hung units on display in the conference room. It was about the size of a carry-on suitcase and weighed less than 100 pounds. One person could lift it and hang it on the wall. The components that would normally sprawl across an American boiler room were all inside that little boiler's white cabinet. The flat, bladder-type compression tank was tucked behind the plate heat exchanger, which made instantaneous hot water. The circulator, with its plastic volute, fit into a plastic manifold that also contained the plastic three-way valve (which diverts the flow from space heating to domestic-hot-water production, as needed). The system's air eliminator was built into the circulator's volute, and you could easily change the air vent (also plastic). This entire manifold was about the size of three computer keyboards, stacked one atop the other. There's a lot going on in a very small space, and it's as quiet as can be.
We live in a house on a slab and our boiler, this big, cast-iron, floor-standing bruiser, fills a room of its own, and upstairs, shoehorned into a closet next to the chimney, is our indirect domestic-hot-water tank. This tank alone is more than twice the size of the wall-hung boiler we saw in the conference room. And between our boiler and our upstairs indirect tank, there is a dog's breakfast of piping, installed bit by bit over the years.
"I want one of those," Marianne said, pointing to the little suitcase. Marianne is not a technical person; she is the American consumer.
We walked around Wilo's lab at Aubigny sur Nère. A Home Depot-size rack held just about every wall-mounted boiler I've ever seen in my life, and some that I've never heard of before. "What's this?" I asked.
"Boilers from different manufacturers. We test these," I was told.
"Why?"
"Because, in many cases, we work with the manufacturers on the design. They must be efficient, and they must be very quiet."
And this was something I had never heard of, or even considered. In Europe, the boiler people often check to the knowledge of hydraulics that the pump people possess, and they leave the design of the waterside of their boilers largely up to them. It's a partnering that's so outside the scope of anything that goes on in America and it made me wonder at the possibilities.
We entered a soundproof room and the engineer closed the door. The quiet was so intense that it almost hurt. It was actually scaring us. "You never get used to that," the engineer said, "but it's necessary for the testing. We must know exactly what's going on when the boiler runs."
There was a concrete wall where they would hang a boiler for testing. Everyone would leave the room and a one-of-a-kind robot would take over from there, moving a pair of perfectly spaced microphones hundreds of times from this point to that, and then to that. And all to check the level of noise, slight as it is, and to give them the feedback they need to make these units even quieter.
I thought of the roar our oil burner makes when it batters onto the job during the day and on into the night. I thought about how it rattles the pictures on our living room wall from time to time. We're used to that. And we think that this is normal here in America. Funny.
Travel and you'll see the world in a different way, and you'll begin to wonder.
In Paris, you can rent a bike for the day at any of these 750 self-service docking stations throughout the city. This all started during the spring of 2007. A one-day pass costs just one Euro (about $1.30) and you can drop off the bike at any of the docking stations, which seem to be everywhere. There are 10,600 bikes for rent right now (20,600 will be available by the end of 2007), and I think we saw most of them being peddled around. I travel and I see things that are good for the environment, and great for the people, and it shakes up the way I think about things. And that's good.
Some considerations:
If more wall-hung boilers, especially condensing wall-hung boilers, arrive in America, and if consumers decide that these make sense (as Marianne did), will this change the way we buy circulators? Keep in mind that these circulators are an integral part of the plastic manifold that makes up the hydraulic side of the boiler. You marry that manufacturer.
If the compression tank is built into the boiler, and it is a bladder tank, rather than a diaphragm tank, will this change our thinking about what a compression take should look like, and how will this affect the replacement business?
If the circulator incorporates the air separator as a part of that plastic manifold on the hydraulic side of the wall-hung boiler, what will this do to the air-separator business?
And are we getting that much closer to the concept of The Boiler Room in a Box, and if so, how will this affect the trade?
Stay curious; there are interesting days ahead.